Deals App
Being a student is expensive: with increasing tuition fees, the outrageous price of textbooks, rent, and other monthly bills, it all adds up fast. That's why you need the Deals App – a discount program designed to help students save money on services and at restaurants, retail shops, fitness studios, and even online shops across BC.
The Deals App is run for students, by students, to help make everyday life more affordable while in college and university. With the Deals App, you can:
Search for discounts by location, using the map view
Browse discounts by category
Bookmark your favourite discounts for future or repeated use;
Use your virtual student card to redeem discounts in store and online.
Our discount program is easier to use than ever – just download the app, create an account, and set your location to find discounts at over 600 locations. 
Using the App
Browse discounts nearest to you using the map view or by category. To redeem a discount, simply click on the virtual coupon, which will display your Virtual Card and instructions.  Follow the instructions for the best way to redeem your discount.  It's that easy!
Each account expires 12 months after activation, to reactivate your account simply re-enter your valid student credentials when you receive an email notification.
Do you have suggestions for local businesses that you'd like to see on the app?  Contact us at ccss@camosunstudent.org with your recommendations.
For Businesses
Are you a business owner or manager who would like to partner with the Deals App?
The Deals App is a provincial discount program coordinated by the BC Federation of Students (BCFS), an alliance of 15 post secondary schools across BC.  This program is offered to BCFS and Camosun students for free, and in which businesses can participate at no charge.  By participating in the Deals discount program, your business will benefit from free advertising, while expanding your customer base. More importantly, your business will be recognized in the community as one that supports students. 
Contact ccss@camosunstudent.org for more information.
But wait, there's more!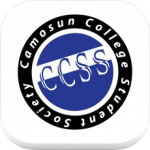 Looking for more ways to make your Camosun student life easier?  Check out the Camosun Student App to stay connected with the Camosun community.