Pride Collective
Who We're For
The Pride Collective is dedicated to providing and creating a safe and supportive environment for students who identify as Lesbian, Gay, Bisexual, Transgender, Queer, Two-Spirited, Intersex, Agender/Asexual, or any of the other diverse members of the Pride community (LGBTQ2IA+) and their allies. Our lounge is open to all students regardless of gender or sexual identity or expression, the only requirement is to be respectful and considerate of the other users of the lounge.
pride@camosunstudent.org
What We Do
The Pride Lounge offers individuals an opportunity to take an active role in creating a healthy, involved, and fun community on campus. In addition to providing a safe and supportive space for all students with queer-positive attitudes to study and hang out, the Pride Lounge acts as a small resource library with books and other materials on LGBTQ2IA+ issues. It is a place for making connections, making community, and making change.
The Pride Collective acts as liaison between the students of Camosun College and other queer organizations in the community. You can contact the Pride Director below if you need any help, or if you're interested in helping out. Beyond these services, the Pride Collective is also committed to raising awareness of Queer, Transgendered, Bisexual, Gay and Lesbian issues, and combating homo-, bi-, and trans-hate on campus, in Victoria, and beyond through campaigns, activism, and social events.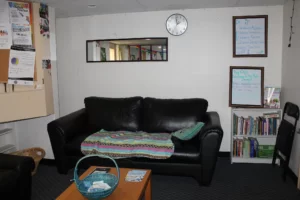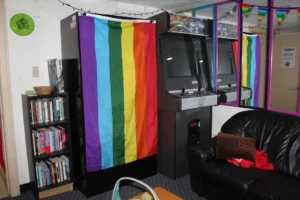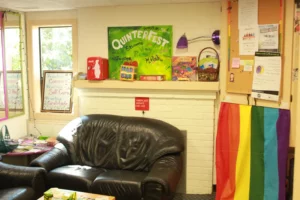 Where to Find Us
The Pride Lounge is located on the Camosun Lansdowne Campus (3100 Foul Bay Road) on the bottom floor of the Richmond House, Room 103. We are immediately to the right after entering on the first floor. See the map below!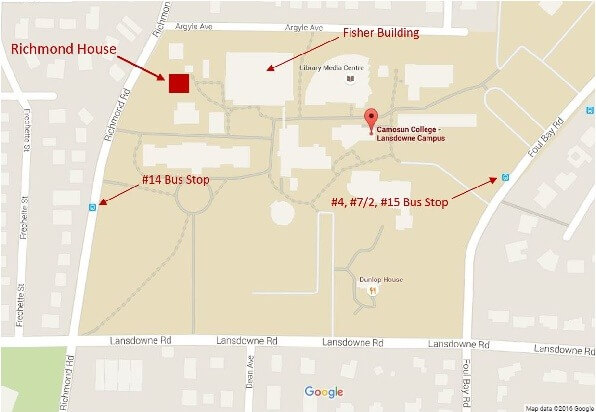 Contact